The thing that's so great about contemporary art is that it's so funny. If you're a producer of a weekly current affairs show and it's a slow news week there's always the option of covering the latest outrageous exhibition, kooky artist or crazy, crazy happening. That house of non stop mirth – The Art Gallery of NSW – has come to the rescue of the ABc once again, this time with an exhibition by an artist with a funny Euro accent and some work that can't honestly be called "art". Wolfgang Laib gave State Line a much needed boost with his radical minimalist sculptures that use pollen, milk and other assorted materials. His German accent and loose handling of the English language was a bonus. Here then is a super condensed version of last Friday's story Pollen Art.
The Presenter: When is art, art? When it comes to contemporary works, it can often seem difficult to tell. A curator at the Art Gallery of New South Wales, Tony Bond, believes one indicator is the artist's ability to come up with an original idea – which is what German sculpture Wolfgang Laib has done. He's an internationally-renowned artist who set up an installation at the art gallery using pollen, wax, rice and milk. But, is it art? Sarah Schofield reports.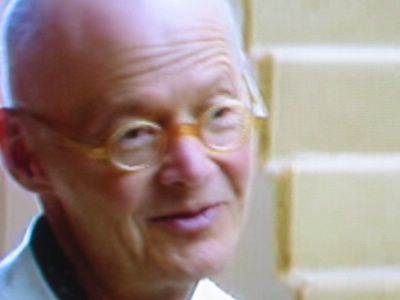 The Artist: There will be people coming in to this exhibition. They will have, no, they don't know what that is, it will not make anything for them, but there are also other people they see the first time and they can't get enough from it.
The Curator: For me Laib is an exceptional, outstanding artist. I think the work is very beautiful, it's very atmospheric. People respond well to it.
The Esteemed Critic: Well, I think it has to be free. I don't think you could actually charge people to come and see Wolfgang Laib.
The Reporter: Does it concern you that Australians might find your art a little quirky?
The Artist: No, that's not my problem, otherwise I couldn't make exhibitions. So the more odd it is at the beginning the more important it is. If it's easy, it's even unnecessary any more.