When the brochure for the Sydney Festival was pushed under the office door we realised with a sense of dread that the end-of-year-season is nearly here. Big finale exhibitions, group shows, fund raisers and exhibitions by Indigenous artists are all sure signs that things are hotting up for the next six weeks [before they cool right down again into summer slumber]. This week sees the opening of The Kingpins' Take Us To Your Dealer, the group's long awaited debut exhibition at Kaliman Gallery. Opening on the same night is Beyond Real Part 2: Making A Scene at the Australian Centre for Photography, a group show curated by Alasdair Foster featuring – well, a lot of artists you know – T. Moffatt, R. Laing, B. Lee, J. B. Rrap and R.Farrell & G. Parkin among others. And if you read below, there's plenty more to choose from. Your choice is a lot of taxi trips and hangovers, or you can choose your friends accordingly.
Embracing this end of season madness, we open our mail to find an invitation from The Wild Boys. The group have guest edited the latest issue of Elizabeth Pulie's Lives of The Artists and they are having a launch at the Newtown Hotel on Wednesday the 16th of November at 6pm. They write: "Shirley Valentine is the centrefold. If you don't know who Shirley is then you better get your arse to the Newtown Hotel. Did somebody say ingénue? There will be music by Robert Lake and Mikofanclub, videos by the Wild Boys and lots of special guest stars. DRESS UP!"
"The Wild Boys are calling on their way back from the fire…"
MOP Projects is having an end of year Xmas show – it's an open invitation and all anonymous. Here's the deal:
Dear Artists, Ho!Ho!Ho! This is a reminder that MOP's Christmas Show 'Punch' is fast approaching – opening Thursday, 8th December. And we are asking you all to contribute a small postcard-sized artwork (10cm x 15cm) in any medium for inclusion. These will all be for sale at the rock bottom price of $30. But here's the fun bit – they will all be on show anonymously, so put you name and title on the back please. We will be serving free punch on the opening then moving on to a local hostelry afterwards for more Christmas revelry. The show will be up until the 18th December and will provide a marvelous opportunity to pick up a small present-sized artwork, just in time for Christmas. Friends and Artists – please support our Christmas show and deliver you work to MOP or post it to PO Box 665, Surry Hills, NSW 2010, by the 1st December. Any queries call Adam on 8394 9249. It won't take you long and you might make someone's Granny very happy. Cheers from all at MOP.
Marita Fraser and Alex Lawler's The Conception Show and Paintings about Fucking at Phatspace.
Marita Fraser and Alex Lawler are having a show at Phatspace – also opening this Thursday November 17 – with what is perhaps one of the best titles all year – The Conception Show and Paintings about Fucking – any artists who start referencing Big Black while making cool as cucumber abstracts are alright by us.
"This exhibition contains two sets of actions undertaken by different types of paintings. One set of paintings, entirely abstract in content are here enlisted to serve as illustrations for moments of conception. They serve this purpose on many levels. Where art serves to romanticise science these paintings offer mental maps for the foreignness of cells, fluids and functionals.[…] The exhibition also features paintings taking on the task of acting out something that is known to all of us. This work might be read in accordance to its various strategies. For instance where variable instances of livable constants manifest themselves in all objects as our libidos propel us through the world."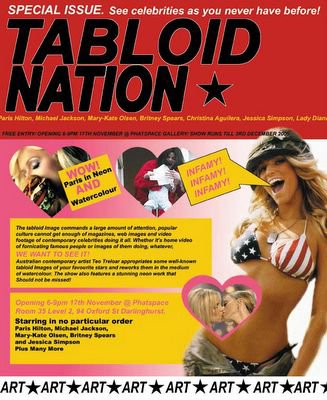 Teo Treloar's Tabloid Nation, Opening at Phatspace, Thursday November 17.
Teo Treloar is also exhibiting at Phatspace a show called Tabloid Nation featuring Britney Spears, Michael Jackson and Paris Hilton who will all be attending the opening. Sadly, John F. Kennedy will not be attending either the Phatspace show or Jai McKenzie's The Zapruder Effect opening at Peloton on November 24. This is a shame, as the ex-President is the nominal star of the show, but that's what happens when you're a] missing most of you head and b], you are dead. We tried to get a warning to the President that fateful day – "Please, Mr. Kennedy, don't go to Dallas! Don't go to Dallas!" – but it was lost in the noise of the screaming crowd. True story.
Jai McKenzie's The Zapruder Effect, at Peloton from November 24.
"More than forty years after Abraham Zapruder filmed the assassination of President John F. Kennedy we now experience what I have called the Zapruder Effect. It is with a disturbing sense of the routine that we turn on the television to be seduced by the drama and immediacy of breaking news showing images captured by journalists, amateur bystanders and security cameras. These shaky moments of intense violence are played out for us again and again, saturating us and apparently initiating a reactive but popular world view that seems to have fundamentally altered the communities we live in."
Anthea O'Brien's Residua at The Block, QUT, December 2nd.
Last week, when we reviewed a couple of shows in Sydney, we were taken to task by a reader for not being aware of what's happening in Wagga Wagga. We are happy to acknowledge that shortcoming and the complaint has been referred to our oversight committee. On a blog about the Sydney art scene we should of course be including more information about exhibitions in regional areas and in that spirit, are very happy to give a shout out to
Anthea O'Brien
in Brisbane who is doing a one night only exhibition:
rESIDua uses the new technologies to explore consciousness through an immersive Installation. Moving images and sound fill a room animating thought processes and daydreams. Ceramic masks are screens for movies that reference physiognomy as the product of consciousness. An invitation to the final work for Master of Visual Arts at Queensland College of Art Griffith University by Anthea O'Brien. Exhibition Date One night only ! 6pm-9pm Friday, December 2nd 2005. Venue "The Block" QUT Creative Industries Precinct Musk Ave, Kelvin Grove, Brisbane.