What exactly is an "emerging artist"? Most people would think that the term relates to artists who are just starting out – emerging from obscurity into the light of recognition – perhaps people who've just graduated from art school and are embarking on their careers. There are levels of visibility in the art world, so one could conceivably emerge from one level to the next – say from doing solo exhibitions in artist run galleries into group shows in commercial galleries and then perhaps to commercial representation. But could someone still be said to be still "emerging" when they're in high profile group shows in museums? Or let's say they had a commercial gallery representing them for a while and then lost that representation and are now trawling around the ARIs while they wait to get back into the state of 'emergence'? As to what actually constitutes a state of being an 'established artist' is hard to define, but you would think having a commercial gallery dealer spruiking your work to collectors and curators, being in group shows in public museums, having articles about your work in glossy art magazines and participating in every other group show in ARIs around town and maybe even running an ARI as well would mean that you were no longer 'emerging'. You're there, if 'there' is actually a place.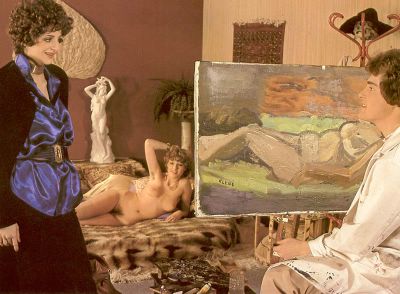 Emerging artists, recently.
Well you'd be wrong. Being an "emerging artist" is a state of mind just as surely as it's a marketing concept. The ½ Doz organisation stages shows of the work of "emerging artists". According to the room sheet available at their latest project – Ghosts of The Coast at Gallery 4A – they are "a non-profit, artist-run initiative dedicated to commissioning, promoting and exhibiting the work of emerging visual artists". In the past – with exhibitions such as The Late Show video program, the Half Doz Summer Festival and the recent Space Invaders also at 4a – the definition of "emerging" was pretty easy to understand, but in Ghosts of The Coast the mix of artists is utter madness. Now, before we go any further, we should say that we have no problem with established artists exhibiting alongside genuinely new artists. It's good for everyone – you get to see an artist's work in context with their peers, it can bring in a new audience to an ARI, it can bring curators to shows and it helps younger, less established artists get a foot in the door with commercial dealers. But when we see a show that is held in a gallery such as 4A with a line up of people who could not be included in a realistic definition of "emerging" you quickly realise that being "emerging" is a philosophical, political and economic declaration of outsider status when nothing could be further from the truth. For example…
In Ghosts of The Coast, curated by Dougal Phillips, we have artists representing a gamut of art career positions. Evan Salmon is represented by Legge Gallery in Redfern and has been there since 1993. His recent painting Salamander is currently hanging in the Sulman Prize exhibition at the Art Gallery of NSW. His work has been acquired by the collections of Colin & Liz Laverty, the University of Technology, the National Art School, Liverpool TAFE and the International Management Group. His work Dazzle Ship in GOTC was exhibited at the Wollongong City Gallery and the 4A installation is accompanied by its own handsome 4 page, full-colour catalogue. Lionel Bawden is represented by GrantPirrie in Redfern, as is fellow GOTC artist Alex Kershaw. Bawden's work is owned by Artbank, the Newcastle Regional Gallery, Queensland Art Gallery, National Gallery of Australia and the Macquarie Bank Collection. Back in 2004, Bawden won the Emerging Artist Award funded by ABN AMRO beating other unknowns such as Patricia Piccinini and Shaun Gladwell for the prize. Meanwhile, Kershaw is all over town – he's been in numerous exhibitions including works shown at Artspace, Tin Sheds, The Centre for Contemporary Photography and the Performance Space, he was in the 2004 Helen Lempriere Travelling Art Scholarship finalists exhibition and his work was included in Festivus 2004 at Sherman Galleries.
Mel O'Callaghan is represented by Sherman Galleries. She doesn't actually live in Sydney, dividing her time between Berlin and Paris, but exhibits in Paddington with Sherman as well as in Paris with Schleicher + Lange. Aside from an array of impressive group and solo shows curated by some familiar names – Laura Murray Cree for example – O'Callaghan was artist in residence at the Foundation and Centre for Contemporary Art in Prague in 200, and had the Art Gallery of New South Wales studio and the Cité Internationale des Arts in Paris in 2004. Joining O'Callaghan in international representation is Cherine Fahd who is theoretically still being represented by Gitte Weise. Although the gallerist may have shut up shop in Sydney, according to her line ad in Art Almanac she's still open for business in Berlin. Fahd, meanwhile, is exhibiting some photos in GOTC she took as part of her $30,000 NSW Women's and Arts Fellowship she won last year. The other three artists in GOTC are perhap a little closer to the more popular concept of 'emerging'. Pat Sae-Loy is a recent graduate of COFA and we saw the artist's work in Perth at Hatched 05. We don't know anything about an artist named Prateep Suthathongthai but Todd Robinson is an artist whose shown work in the Sherman Galleries Art Box, recived funding from the Australia Council Visual Arts and Crafts Board and his portrait of Fahd called Cherine, Morning in the 2004 Citibank Photographic Portrait Prize.
If Salmon, Kershaw, O'Callaghan and Bawden are emerging artists then we'll eat our collective hats. They are established artists by any reasonable definition of the word. What is going on here is a question of alignment. The notion of emerging is one of perpetual newness, of continual emergence into something more than you already are. No one really wants to be seen as established until they're into their 60s because by then, if you're seen exhibiting in ARIs, brother, there's something wrong! Perhaps the curator decided for GOTC to throw away the definition of 'emerging' and just chose whatever works he thought were best for the show, and that's fine, but it points to a more troubling lack of definition with the contemporary art world.