During the last two weeks the hits on the Art Life have increased by a huge amount, making March/April the biggest month in the blog's existence. We discovered the reason for this was an article which mentions us in the Art Gallery of NSW's Look magazine and a link from the gallery's email newsletter. We extend a very special welcome to all Look readers and offer a very special, first time 10 per cent discount on all Art Life merchandise. If you've not read us before, we have a bi-weekly ritual where we beg our readers for forgiveness by correcting mistakes, answering emails and talking about recent comments…
A few weeks back we reviewed the Adelaide Biennial and made mention of Scott Redford's work, which we praised as his best. We knew that any kind of comment about Redford would generate a reaction from the artist, but we hadn't quite counted on the, er… intensity of his comments and emails. Anyway, out of all the subsequent correspondence it now appears that we have a correction to make – Redford lives in Brisbane, not the Gold Coast. We can't imagine what his reaction might have been if it had been a negative review, but as Molly used to say, there you go…



SICK

, Ian Haig, Conical Gallery, April 7th – 29th.
Opening: 6pm, Friday, April 7th. Upstairs, 3 Rochester Street, Fitzroy Melbourne.
Last week we also posted a piece on the critical reaction to the Archibald Prize and the reviews, articles and items in various newspapers. Our good friend Sublime_ation wrote us an email which began "Doing a good job over there, although you've really got it in for John haven't you? I don't mind him as a person, but then again, I hardly read him." As we have stated before we don't have anything against The Esteemed Critic personally, and often agree with much of what he says, but there's just something in the way he says it. Sublime's email got us thinking tho' about McDonald and Sebastian Smee and the rest of the usual suspects in our newspapers – we know we run the risk of appearing obsessive but when these guys are the only game in town there's not much we can do about it. We decided we should have a moratorium on mentioning them and look further afield for art writing that we actually like – and why not? So, beginning tomorrow, we're going to avoid mentioning either critic for three months and see how it goes.
I Like Sydney

: 7pm, China Heights, 3rd Floor, 16-28 Foster Street, Surry Hills.
We should of course be reading other blogs, because that's where most of the good stuff is anyway. There's a list of some our favourite blogs on the right hand side of this page and while we were wringing our hands over the Archibald, Margaret Mayhew on her blog Art & Mayhem, was putting the whole "going to the Archibald" dilemma into stark, personal perspective:
I dunno whether to crash the archi or not. The last time I attended un-chaperoned, I ended up rolling on the floor at Ray Hughes's wrestling with Vivienne Littlejohn (RIP) over a bottle of – err Red? white? bubbly? (i think it was a glass bottle). this was after ranting incoherently at John Mcdonald (not a bad thing probably). the next day I woke up alone in bed, with a full condom beside me and a weird apologetic note from my friend's flat mate. Hmm, well. Vivienne Littlejohn stopped drinking and did her masters in Egyptology and I became a Lesbian. But as of last week I'm single, sad and desperate enough not to let genitalia stand in the way of one those weird sobbing sodden scenarios …. err, hell after the average archies pissup – there ain't a lot of genital standing anyway – I've even had DILDOs go floppy.
Another of our favourite blogs is Gravestmor, which is to architecture what The Art Life tries to be to art. While on a recent visit we found a link to an Apple trailer of Matthew Barney's new project with wife Björk and a whole lot of hair. But back to the corrections and apologies. In our piece last week about artist run galleries we said that we couldn't find Sydney's newest artist run space G&A. This was actually an untruth – or we had misspoken – as they say in Government inquiries – since what had really happened was this: we were on our way back to the Art Life office [located in St Leonards in an industrial estate just next to The Ponds Institute] when we remembered we had forgotten. Ok, it's not much of an excuse but we just hoped it would slide by. Unfortunately the editor of Art Almanac Janice McCulloch was right on to us:
Did you have your Art Almanac with you when trying to find G&A???? It has a map reference and a dot on the map!! So easy to find when you have your trusty Art Almanac to guide you. Would help you find the ARI's too. Only $33 per year for eleven issues jam packed with information for everyone but especially those who are on a mission and 'the trail'.
Caleb K of Impermanent/PELT also left a comment that G&A is in Hibernian House on Elizabeth Street and that G&A "can be found by following the red line from the entrance to Hibernian house to their door!" We stand corrected and ashamed.
Speaking of being ashamed, The Art Life has been admonished repeatedly for our story on Pro Hart's political beliefs and his funeral arrangements. The comments are still raging on that one but in an effort to counter what some have seen as needlessly inflammatory comments, we refer readers to a site that was brought to our attention by reader John Forth. Hopefully some good karma can help stop the violence!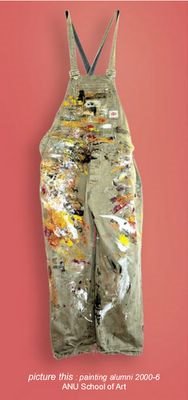 picture this: ANU School of Art Painting Alumni 2000-6

.
ANU School of Art Gallery, 6th – 29th April 2006, Corner of Ellery Crescent and Liversidge street, Acton. Tuesday – Friday 10.30am – 5.00pm, Saturday Noon – 5.00 pm.
Finally, we'd like to thank the readers who have made their Amazon purchases by clicking through from The Art Life. Every purchase you make – and it doesn't have to be the books or DVDs we link to – earns us a 4 per cent commission. We intend to use our 'store credit' to buy some orphans a kitten [or something]. You can also make a direct donation to The Art Life via PayPal. Thanks especially to the very first person to donate money directly to the cause – you are on our list of angels.