Plot: The film opens with Jeanne Hébuterne [played by Elsa Zylberstein] talking straight to camera. A little unkempt with raccoon-eyed mascara and wearing a blood stained blue velvet dress she asks, "Do you know what love is? Have you ever loved so deeply that you would condemn yourself to an eternity in hell? I have." Fade out and into the title and object of Jeanne's affections, Modigliani… The story jumps back a year to Paris in 1919 and a café somewhere on the Left Bank. Inside are rich and poor, poets and writers, artists and bohemians – hell, there's even a bloke dressed up in a harlequin outfit prancing around like a complete tool. Artists are drawing on walls, on tablecloths, on the backs of attractive women. Picasso is sitting at a table with his friends, including Jean Cocteau, smoking furiously and drinking digestifs.

And you thought hands were hard to paint.,
Into this happy and pretentious throng strides a man feared by many, admired by some, acting his little heart out – why yes, it is Andy Garcia in the title role as Amedeo "Modi" Modigliani… In a desperate attempt to outdo what is already a swinging scene, Modigliani gets up on a table and does a little dance with a rose in his mouth, then begins to flirt with Picasso in a disturbing moment of faux-gay-hetro-campiness. Although it is an unbearable scene for all concerned, it turns out to be a diversion so Modi's mates – the artists Utrillo and Soutine – can sneak behind the bar and steal some bottles of Absinthe. Ah, the Parisian art life, debauchery, horrible overacting, a prolonged derangement of the senses.
Does my neck look long in this?
Meanwhile, Jeanne, 22, is going to art school, her little leather portfolio of drawings tucked under her arm. Teaching life drawing is the 43 year old Modigliani. Like many art lecturers before and after him, all Modi can think about is getting to the pub after class, but not before he creepily walks around the room touching the necks of all the beautiful girls. Significantly, Jeanne and Modi's eyes meet across a crowded classroom and they have a "moment'. Later, when Modi sees Jean on the stairs outside class, he asks to see her work. She says "They're not very good" but Modi insists. In a moment of unexpected art world realism, they are indeed not very good. Modi smiles slightly. It may be that he is saying that yes, they are crap, or perhaps it is Andy Garcia being an actor, it is hard to tell. Although her work is shit, Modi gives Jeanne his hat, and she seems happy to receive an indulgence from the famous artist…

Are you mad? Renoir thinks so…
Art Life: Modi's two basic motivations in life – aside from getting wasted at every opportunity – is a) to prove himself a better artist than his supposed chief rival Picasso and b) cause untold misery for hapless women such as Jeanne who thinks he's "all that". He gets off to a grand start with the first part of his plan by being as obnoxious as possible. Modi is happy to accept Picasso's grudging friendship and invitations to go for a drive in the country to meet Renoir, but that doesn't mean he has to stop being an insufferable arsehole the whole time. Picasso wants to give Modigliani career advice – how to dress, who to talk to, what to paint – but Modi has his own ideas. Out at the palatial estate of the elderly Renoir, Modi is impressed by the fact that the decrepit old man is spoon fed soup by a buxom young Frenchwoman. When asked by Modi how much the massive estate cost, Renoir shrugs and says "A couple of paintings" then pretends that the younger artist didn't just ask such a gauche question. Picasso, appalled, says its time to leave, but not before Modi downs all the drinks on the table.On the way back to Paris by car with Picasso at the wheel, Modi is drunk and obnoxious. Picasso tells him that he can "fuck as many girls" as he likes but for god sakes, don't drink so much. Modi smirks, "the gospel according to Picasso!" Incensed, the Spaniard stops the car and pulls a pistol on Modi , the audience praying that he'll do to Modi's brains what he did to traditional painterly perspective. Instead they drive back to Paris, Picasso secretly vowing never to ever leave home without his pistol.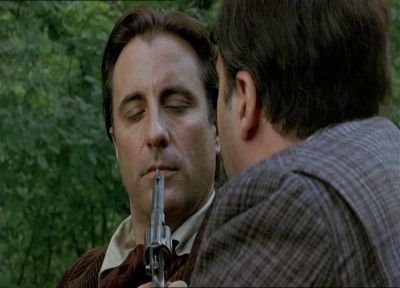 Picasso explains his theories to Modigliani
Romance: Modi's love life is extremely romantic, which is to say he is dying of tuberculosis, drinks to excess, has already been married and has kids somewhere, yet rather attractive women like Jeanne want get into his studio and pose for him. Jeanne's father is naturally appalled when he finds out Jeanne is pregnant to Modi, and even more disgusted when she runs off with him when the resultant baby is taken into care. Modi, meanwhile, is very intense, tortured that he can't get the eyes right. "Where are my eyes?" asks Jeanne when she sees a painting of herself. "I'll paint them in when I've seen your soul," he claims. The big problem for Modi is that he isn't as famous as he thinks he should be, and goes around bothering other artists – especially Picasso – with his bohemian antics. Gertrude Stein – played by Miriam Margoyles who usually specialises in playing crones – attempts to talk some sense into Modigliani but is no use, she's actually more interested in Alice's buns, while Modi's so pissed he can hardly sit up straight. Jeanne decides that if she can't hang around with Modi, she'll get her portrait painted by other artists. Jealousy and big emotions quickly ensue.

Picasso gets set in the Big Paint Off.
The Big Paint Off: The film's dramatic peak is when Modigliani decides to challenge Picasso to an art duel. Pissed, he walks into the café seen at the beginning on the movie, and writes his name on the entry form for artists entering the Salon competition for 1920. Other artists sign too – including Diego Rivera – and Picasso, not to be outdone, signs up as well. The director of Modigliani, Mick Davis, makes some bold stylistic choices in the movie but none bolder than the montage that depicts the "big paint off". In his studio, Modi squints at a canvas and starts making gestures with a brush. We see Picasso, Rivera, Utrillo and Soutine doing likewise. Since the film is set in 1920, a lesser director may have settled on period music, or perhaps a score composed specially for the movie. Not Mick Davis. As the artists paint their little hearts out he uses Italo-Reggae to heighten the unfettered emotion of sheer creativity. Modi has painted his greatest picture, a painting of Jeanne, complete with eyes. Although they live in squalor, have no money and burn their furniture to stay warm, this will surely make everything alright between them. He has seen her soul.

Your cubism, sir?
Modi heads off to a bar on the way to the opening and orders a bottle of Absinthe, which he downs in successive shots one after the other. The barman is suspicious. "Do you have the money to pay for this?" he asks Modi. "I have 5,000 francs!" he claims, meaning he believes he has already won the Salon. Meanwhile, Jeanne and friends, all dolled up in their finest gear, await his rival as Picasso and his entourage hog the limelight. Finishing the bottle and walking out without paying, the barman sends a couple of thugs to ambush Modi in an alleyway, where they beat the crap out of him. The audience sits up and cheers – put one in the head! Although his Salon painting is admired by many – and he wins the 5,000 – Modi never makes it to the opening, preferring to bleed quietly in the alleyway. Found and taken to hospital, Modi lingers long enough for his bohemian friends to gather around his bed, including a weeping Jeanne. "The madness must end!" he says, then dies.

Erk.
Left alone, Jeanne is confronted with a terrible truth – although she has loved to the edge of madness, her Modigliani is also one of the most overrated artists of all time, the great, great grandfather of thousands of café expressionists without a clue. Instead of taking Picasso's advice and living a long life of riches and younger and younger women, he got hopped up on absinthe and then kicked to death. The end. Confronted with this awful reality Jeanne decides to leap from the window of their apartment, nine months pregnant with Modi's child. The audience sighs. What a terrible waste.
Art World Accuracy: 2/10
Absinthe Abuse Value: 10/10
Movie Entertainment Value: 3/10